My Dear Friends,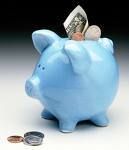 We all love to shop, otherwise you wouldn't be reading this blog. Fashion, to me, is an eclectic mash up of sorts - it can't be narrowed down to one category. Everything from shoes to clothes to gardening to cosmetics to hair to home decorating CAN BE FASHIONABLE.
Another "fashionable" thing is saving money. I'm not talking about Ebeneezer Scrooge-ing it here, I'm talking about getting more for your money, bang for your buck, etc. Making what you do buy count.
Here are 20 ways to save while spending.
1. Find out when it goes on sale. Typically these times of year are when to get the best deal:
Appliances
- Holiday Weekends
Camera/Camcorders
- February & March
Carpet/Flooring
- January
China/Flatware
- March & September
Computers
- August & December
Cookware
- May, June & December
Dining Furniture
- October, November
Electronics
- Spring, Early Summer, Black Friday & Cyber Monday
Furniture
- January, July & Holiday Weekends
Holiday Decor
- Day After Holiday
Linens
- January
Matresses
- May through August
Patio Furniture
- Day after Labor Day
Televisions
- Early Spring
2. The longer an electronics product is on the market, the better the chances are it will be on sale. If it is more than six months old, you can probably find it on sale.
3. Become a member of
One Kings Lane
. It's a private sale website where you can get up to 70% off retail prices.
4. Check out
Shop Goodwill
. Great selection of home decor, artwork & housewares for cheap.
5.
Flit
is a comparison shopping website that does the work for you.
6. Try an online liquidator like
No Better Deal
which sells returns and overstock from big stores.
7. Make your purchase at
Ebates
(I have a link on the top left of this page) to get cash back from more than 1,200 retailers.
8. If you have an iPhone, try downloading the Coupon Sherpa App which sends discounts directly to your phone.
9. Most items purchased at
Target
,
J.C. Penney
, &
Walmart
can be returned IN STORE to avoid having to pay return shipping.
10. Follow your favorite stores & brands on
Facebook
or
Twitter
to get exclusive offers.
11. Visit
UGallery
or
Etsy
for one of a kind or specialty items.
12. Keep a few good staples like glass hurricane vases, wood bowls or solid napkins. These items can be multi-functional.
13. Join rewards programs at your favorite stores. Frequent shoppers get discounts at stores like
Maurice's
,
F.Y.E
,
Hallmark
,
Hot Topic
,
Petco
,
GAP
& more. Some grocery stores even have them, like Kroger & Brookshires.
14. Sign up at
Estate Sales
to get email notifications on tag sales, estate sales & auctions in your area.
15. Look around your local consignment store. I found ten authentic Christian Dior ties for 25 cents each at my local store!
16. Find online coupons at
Smart Source
,
Coupons
or
Red Plum
. They are free, all you have to do is install their free coupon printing software.
17. Be on the lookout for coupons you can use with high dollar items.
Hobby Lobby
&
Michael's
both offer 40% off one item coupons regularly. That could come in handy when buying an expensive item!
18. Keep your coupons in a tabbed wallet and carry them in your purse so you won't forget them when you go shopping.
19. Enter your zip code on
Coupon Map
to see coupons and offers from retailers in your area.
20. Check out
Restaurant.com
for gift certificates at up to 80% off!