My Dear Friends,
Follow Me Back Tuesday is another day of the week that you can gain more followers and find other great blogs to follow on a weekly basis.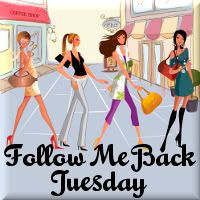 Add your blog to the list (only have to add once) NOT YOUR BLOG HOP

Grab our fabulous button & the link code to post on your blog

Start to follow as many blogs as you would like (make sure you leave a comment so they can follow you back)

And when you receive a comment from a new follower return the favor & follow them back

.
Don't Forget To Enter My Giveaway!
The button to enter is on the top left of the page!